Show Posts
This section allows you to view all posts made by this member. Note that you can only see posts made in areas you currently have access to.
Messages - Minxy
Pages: [1]
1
« on: August 19, 2018, 08:06:39 pm »
We had a smooth and uneventful drive to Hentiesbay early the following day, making a very quick stop in Swakopmund to have something for brunch. Excitement levels are super high!
The shipwreck on the way is very cool especially if you haven't seen it before and we stop to have a quick look and then press on to Huis Klipdrift (yes that is really our lodgings name
) . A modest, but very accommodating fishermen's lodge with lekker breakfast and a kind caretaker who agreed to give us space on their property to leave our bakkie and trailer for the duration of our trip. We pop in to get fuel (we filter all of it with the gugletec filtration thingie) and get back to the lodge.
We offload our bikes and almost immediately start with our "last" prep before we start the actual trip. We had prepacked just about all of things so it was quick to slap our luggage into to the bikes. For anyone undertaking this, do not underestimate how long it takes to get your packing perfect!
With bikes packed and safely locked away in the garage, we leave to have dinner at a highly recommended local spot called Fishy Corner. We had some freshly caught kabeljou and it was literally the best fish I've ever tasted in my life
Things have been going well so far, too well maybe... mmmmm... to be continued!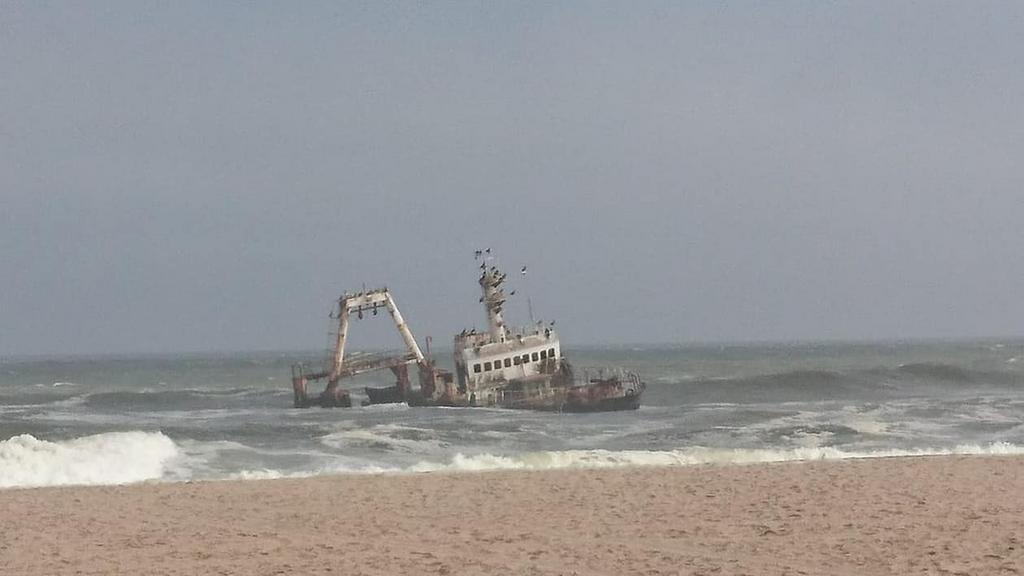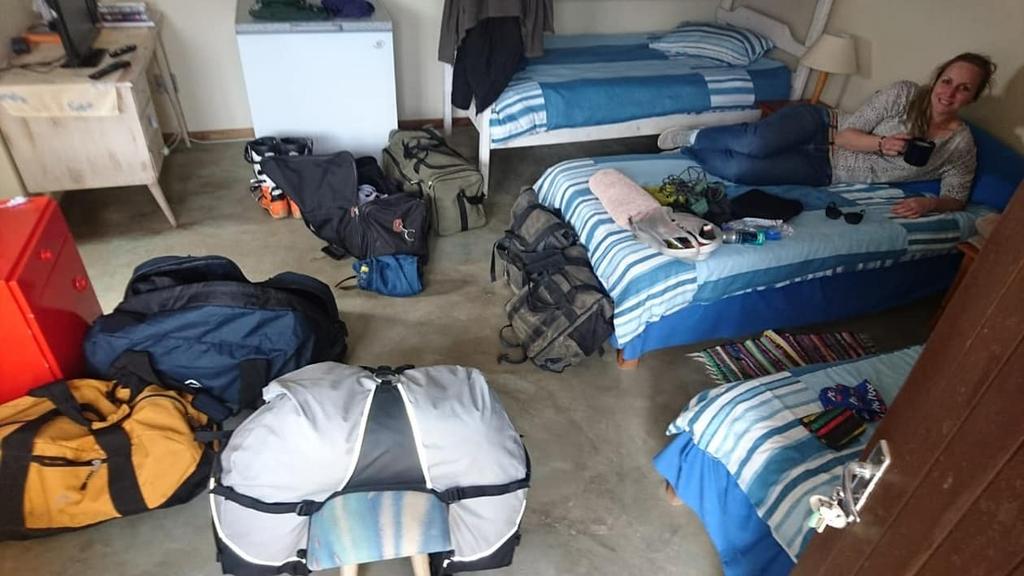 Sooo many bags!!!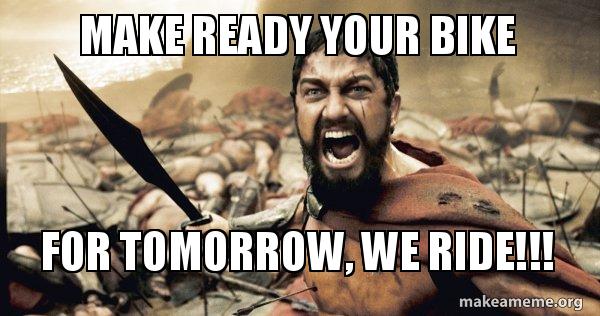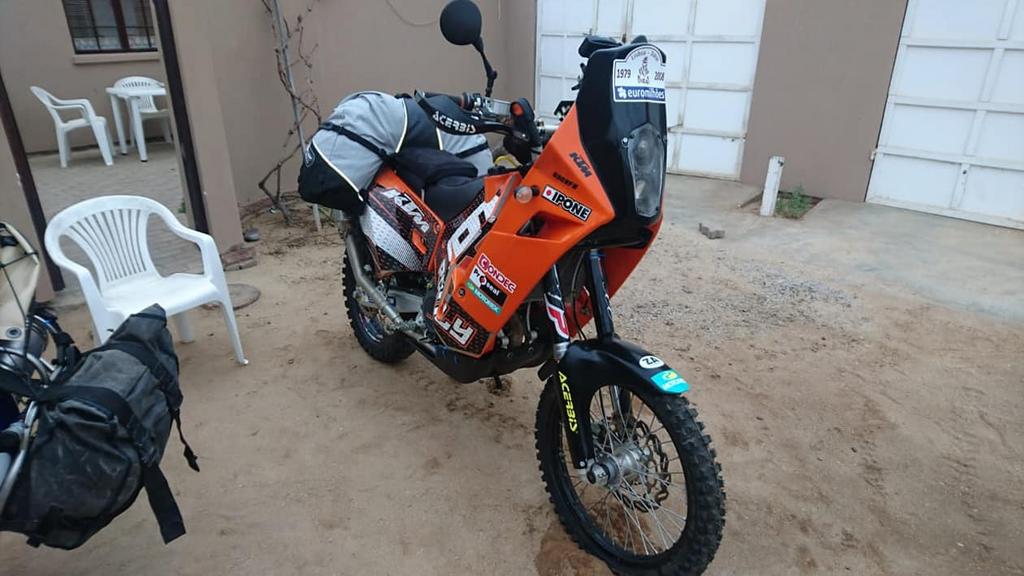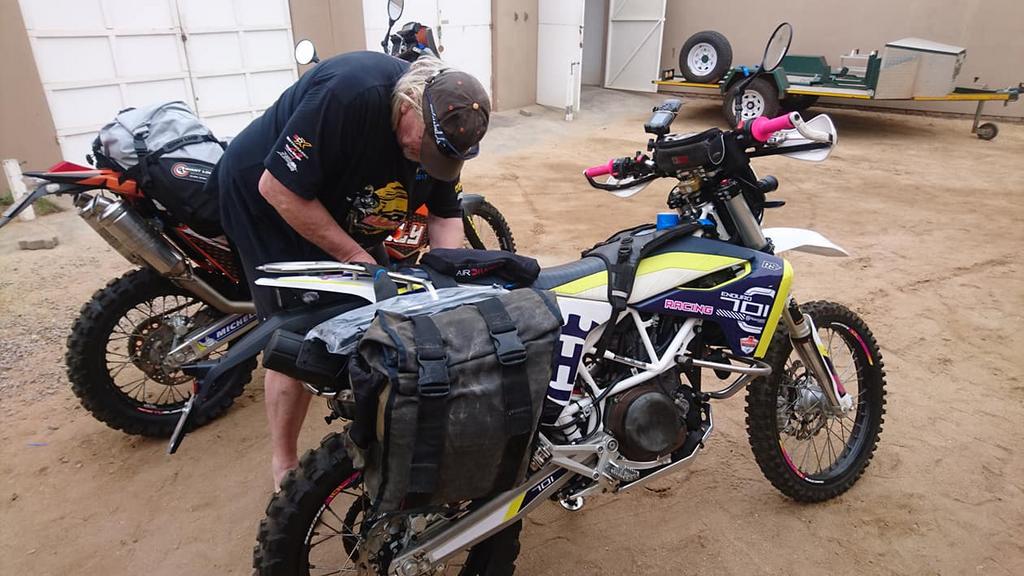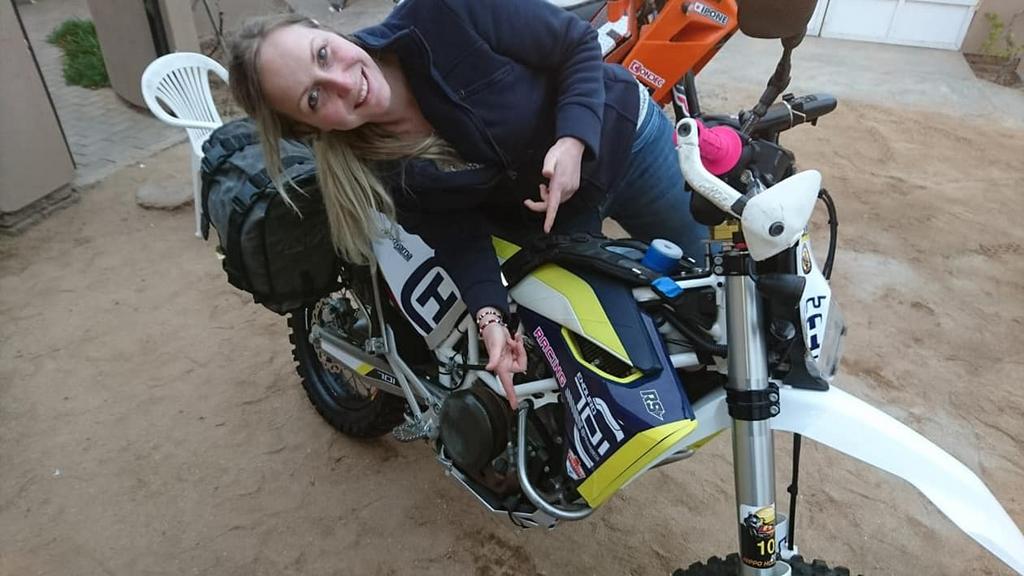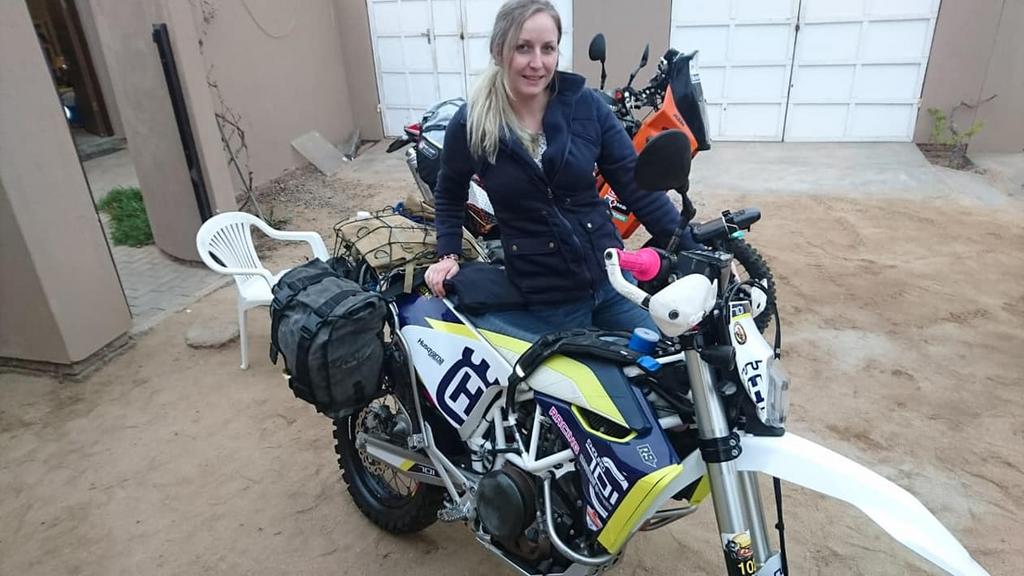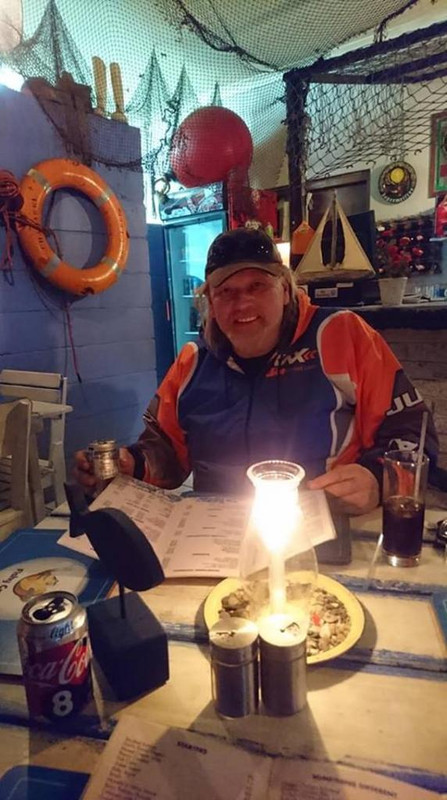 2
« on: August 19, 2018, 06:48:04 pm »
It has been hectic since returning back to civilization... just been sorting things out and trying to catch up with normal life stuff again. I'll try write a bit more in the days to come.
"Getting there"
We left home just after 3am to get the Skilpadshek border post as they open. We got there just after 6am and border crossing was smooth and painless. The plan, drive all the way to Gobabis and get accommodation there, then do the distance to Henties the following day. The border post right on top is open until 12pm, so it really gives you time to do the full distance of Botswana in one day.
The Trans Kalahari highway was in pretty good condition and we made good time (considering all the speed traps) and we got to Gobabis in Namibia surprisingly early... Since we didn't want to hang around in Gobabis and look pretty all afternoon we decided to push on to Windhoek and just book something there instead. After having phoned all the popular lodging destinations in Windhoek though, to my surprise everything was booked full! Some huge conference was apparently in town. I looked for places out of town as alternative, and we found this awesome place called Gravel Travel Lodge, a German bike tour lodge/company.
https://www.gravel-travel.com/motorbikes-technology.html
This Gravel Travel place was something else, they have a workshop there with, I don't know, over 30 maybe, Yamaha XT 660's. All properly rigged with Touratech goodies. The owner there takes overseas customers (mostly) on tours all over Namibia. Unfortunately we didn't get to meet the owner, but it was sure interesting having a peak through the workshop window. Anyway, being proper exhausted we hit the hay early.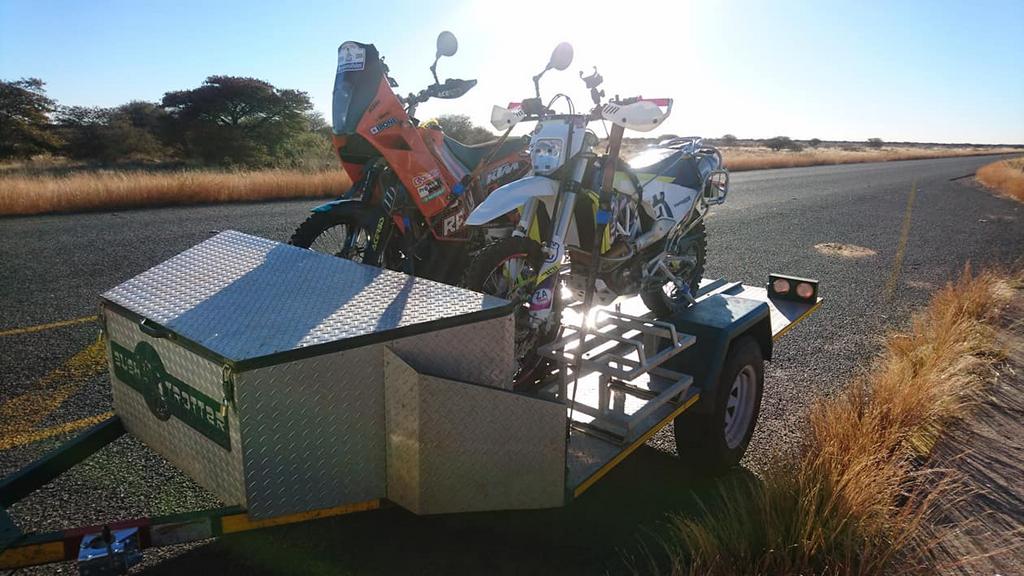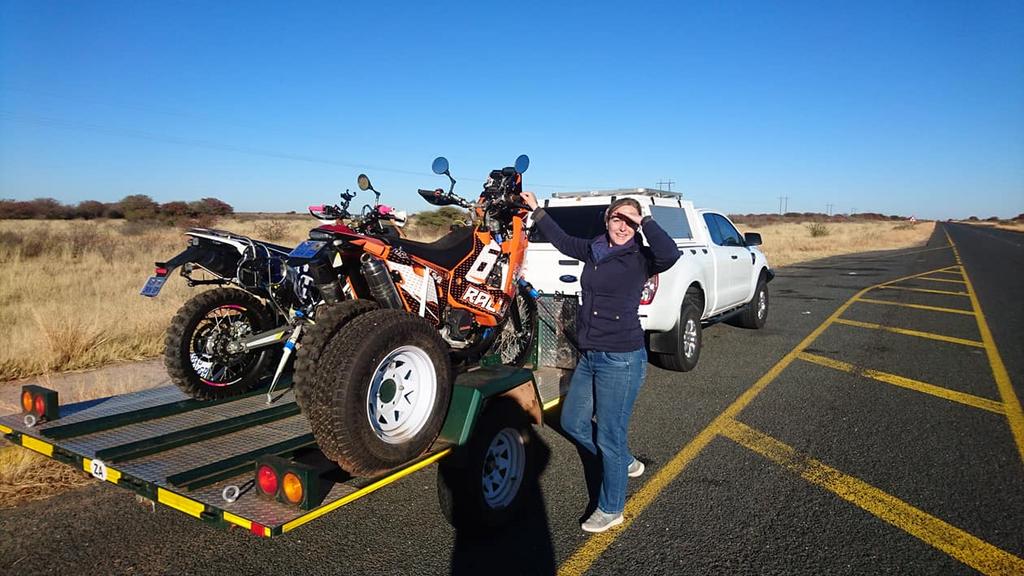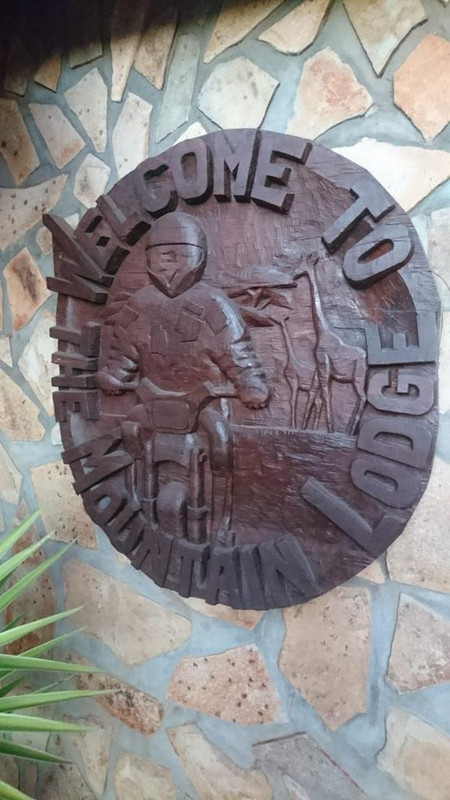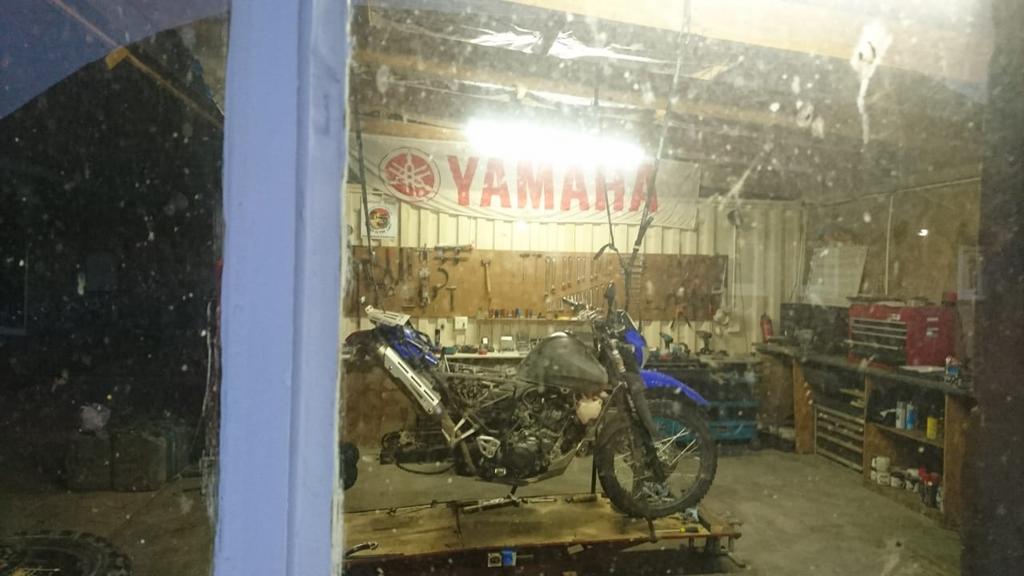 3
« on: August 10, 2018, 02:32:27 pm »
I'm still busy sorting out photos, the video footage is AMAZING though so did that first
I'll put together another video for Brandberg and Huab river section and work on the actual RR soon...
For your viewing pleasure
https://www.youtube.com/v/VySiRqDixAE
LOOK AT ALL THE BEAUTIFUL SAND!!!
4
« on: July 24, 2018, 07:19:52 pm »
Another extremely exciting announcement!
Scrat (on the forum) with the help of his lovely wife Marique, have approached me and offered to make me my own custom rally jacket to wear for this trip. They have started their own active wear brand, Mira, inspired by their daughter.
The jackets are tailor made to fit you perfectly and they can do any design you want from scratch.
I am honoured to be a part of their brand and cannot wait to test their jacket in the adventure riding conditions we are going to face on our trip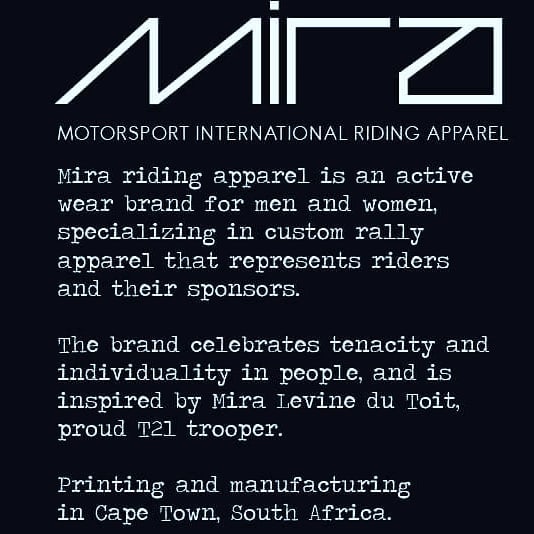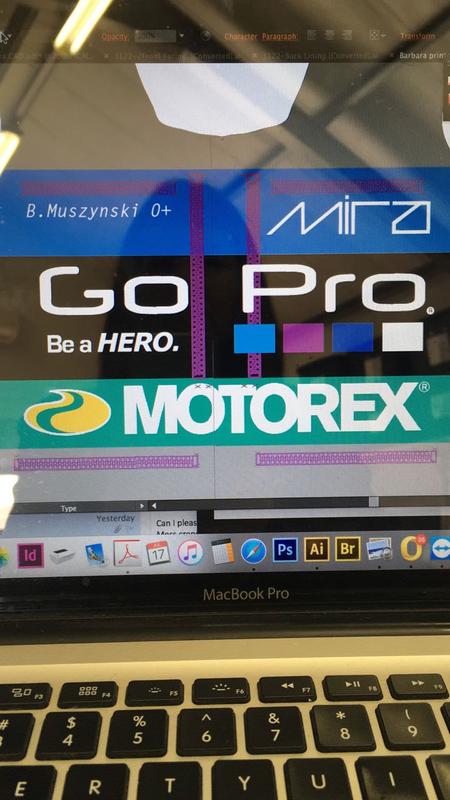 The magical design process in action. Marique is a wizard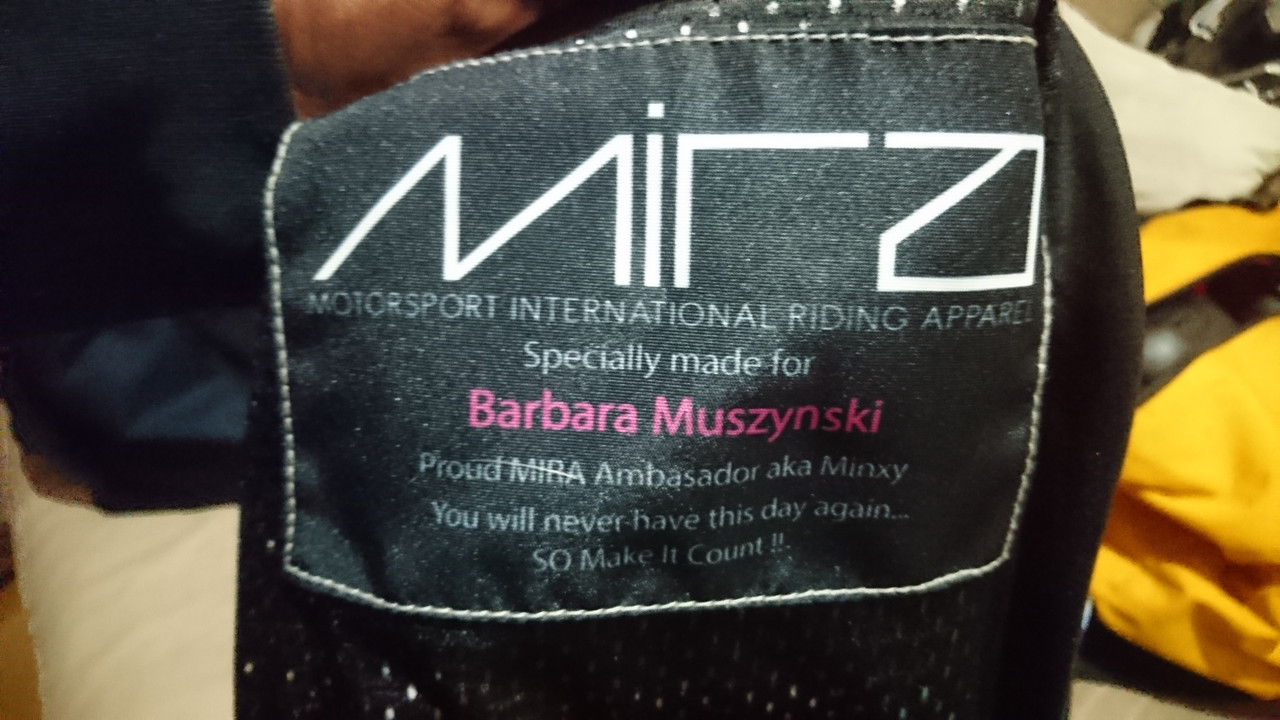 A very special message.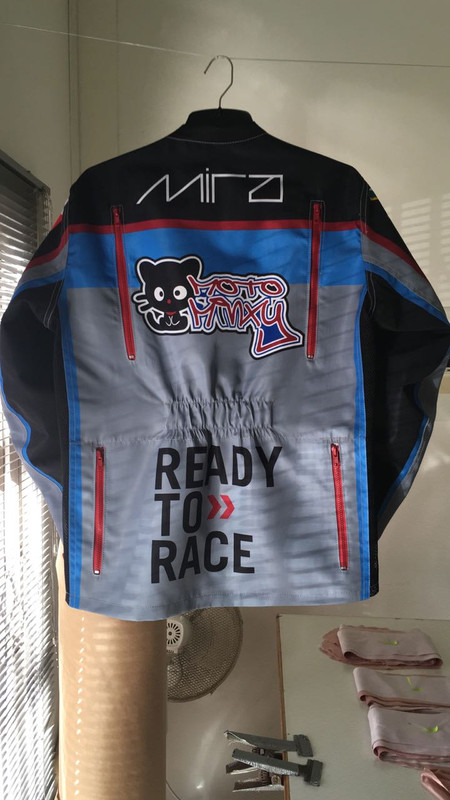 A work of art <3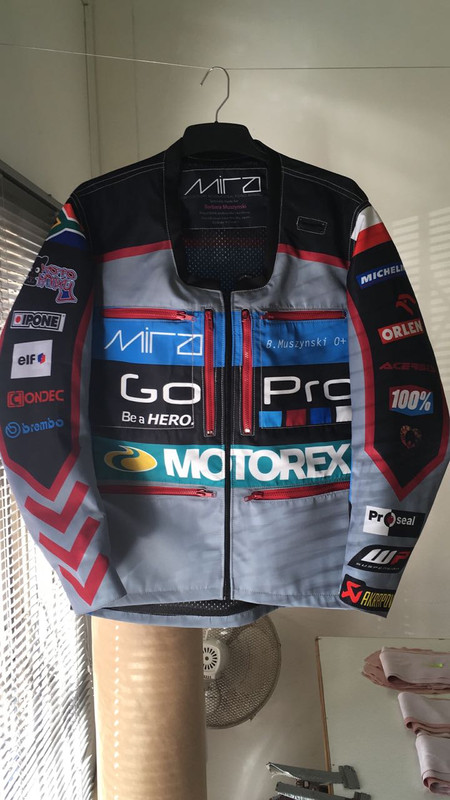 The following users thanked this post:
Scrat
5
« on: July 22, 2018, 10:04:00 pm »
Packing List:
When planning to take on a trip like this packing light is absolutely key to success! I am using a small handlebar bag, giant loop small tank bag and the Andy Straps soft luggage on my 701. I also have 7L + 5L fuel bladders which strap to the back. In addition to that a bunch of tools and tubes (if mousses fail) carefully wrapped up and strapped to the pannier frames of the bike. HSK is using the Giant Loop Great Basin roll top bag, and has also strapped some tools, cable-ties and other goodies to his bike.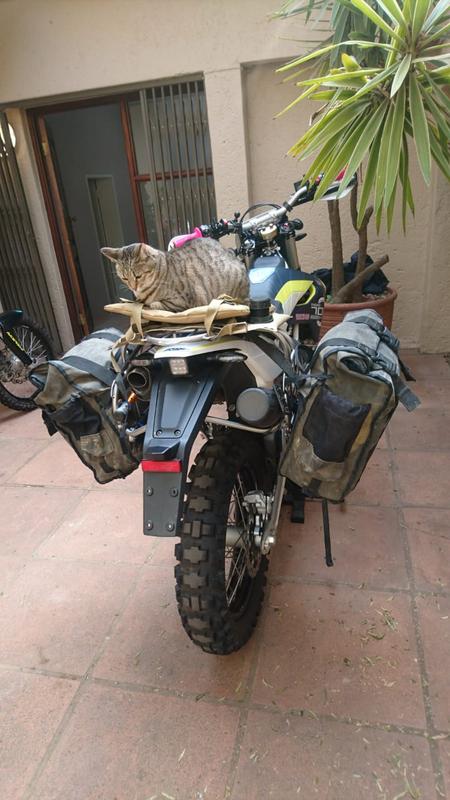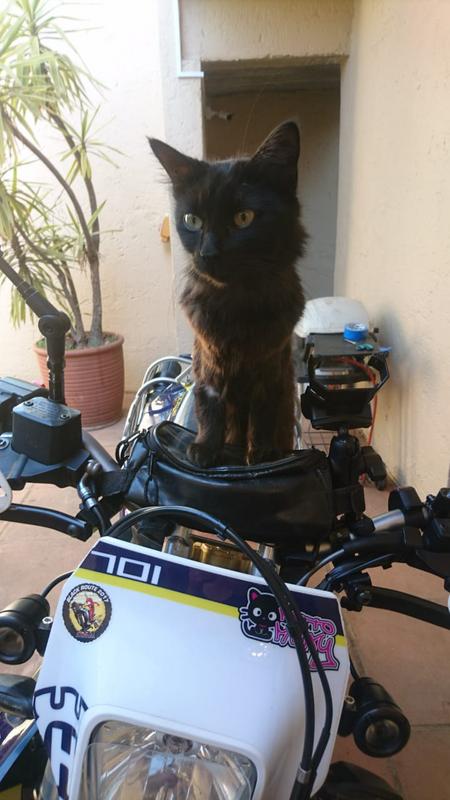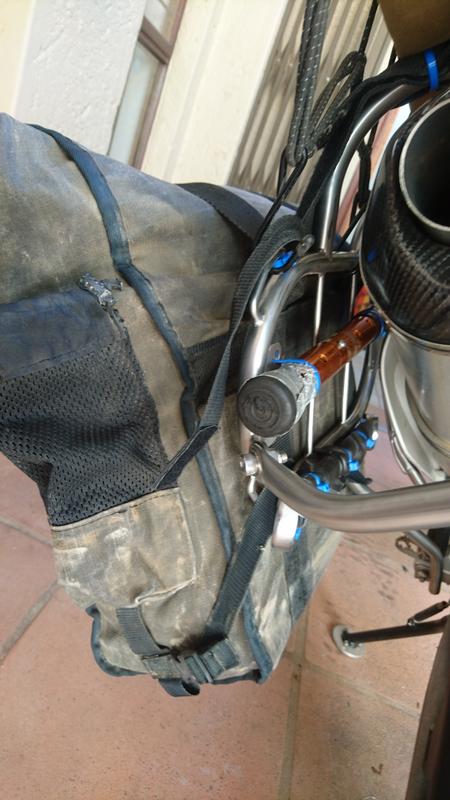 The crutch that we all lean on. Some may recognize it from Quest. We had many punctures there, and I got used to people shouting, where's Minxy, we need the crutch! You cannot ride without one.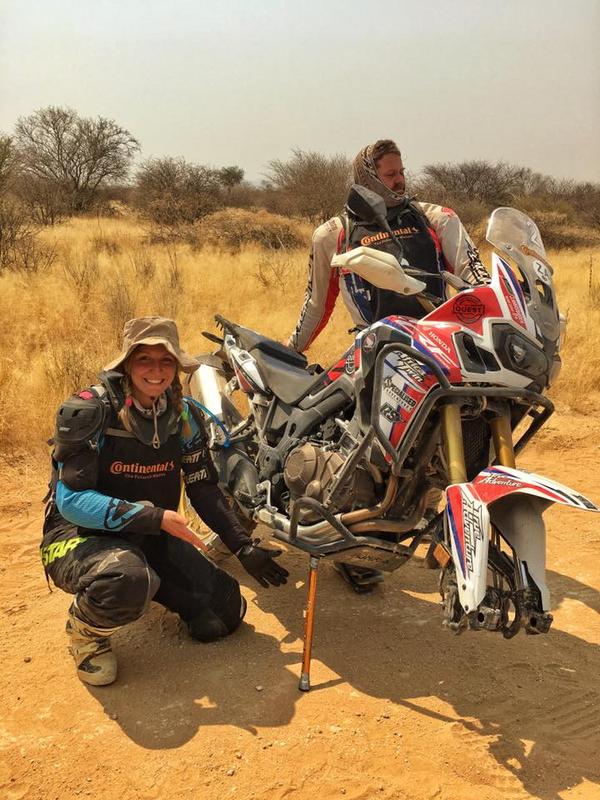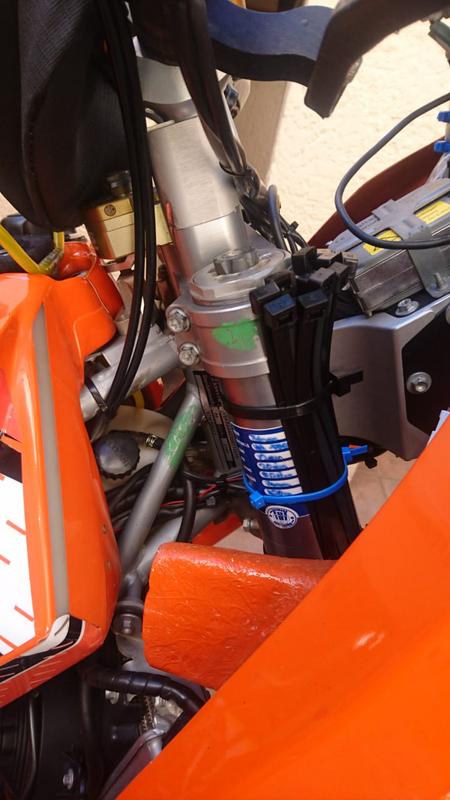 Cable-ties everywhere you look.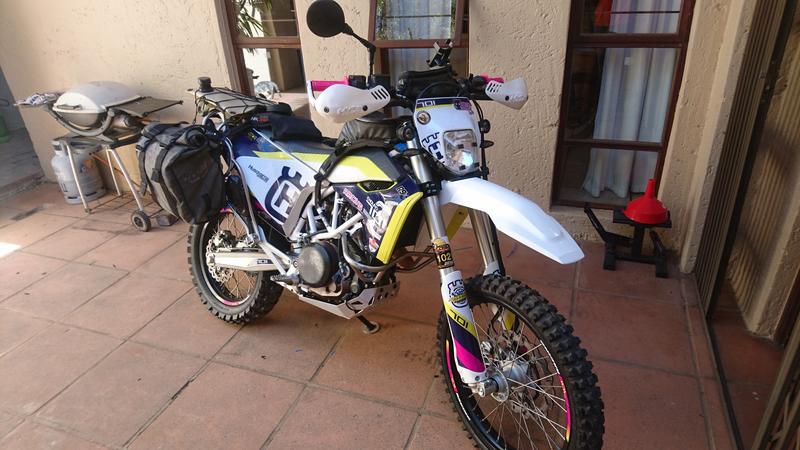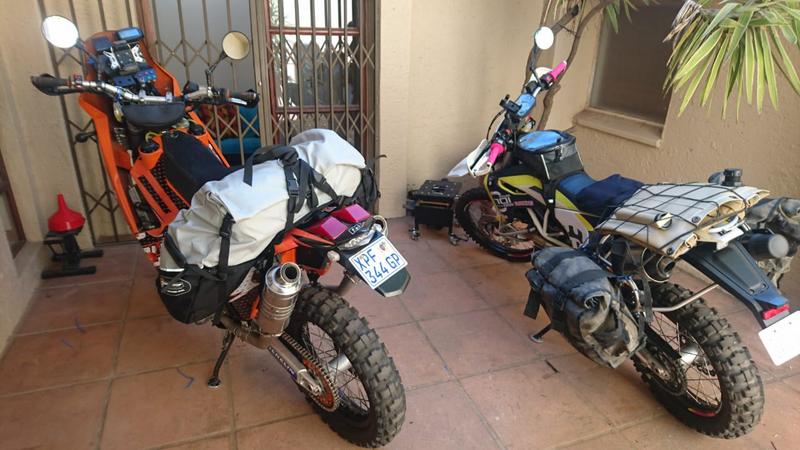 So today we packed pretty much all the things we are taking into our bags and rode around the block to see if everything holds up ok. Everything perfect!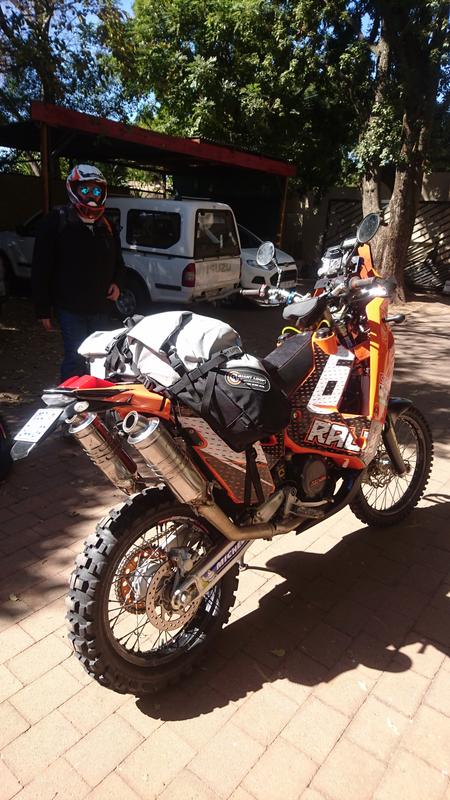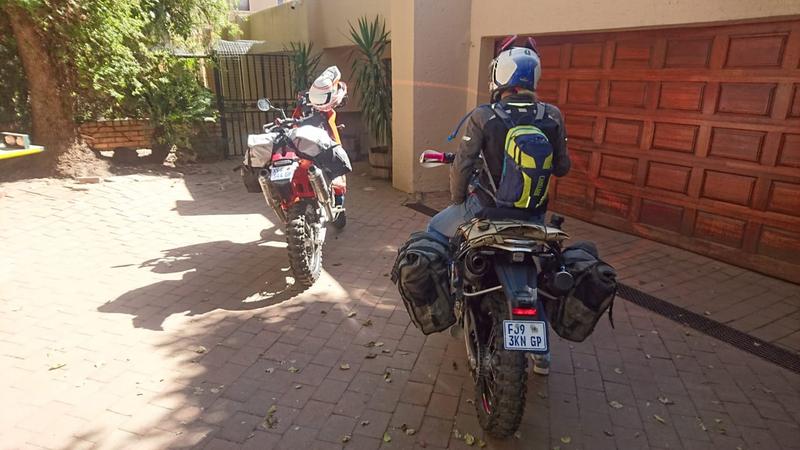 Things we packed:
Clothing
. We both packed the same way so this is list per person:
2x Lightweight T-Shirts each
1x Long Sleeve Shirt
1x Shorts
1x Longpants
2x Riding Shirts (this includes the one we are wearing)
3x Riding Socks (2 in luggage)
2x Socks
3x Onderbroeks (I am not going into the details of my undergarments haha
)
1x Thermal Top (Minxy)
1x Thermal leggings
1x Fleece top
1x Lightweight down jacket
2x Buffs
1x Closed lightweight closed shoes
1x Lightweight flip flops
1x Lightweight thermal gloves (Minxy)
1x Hat
1x Sunglasses
1x Headlamp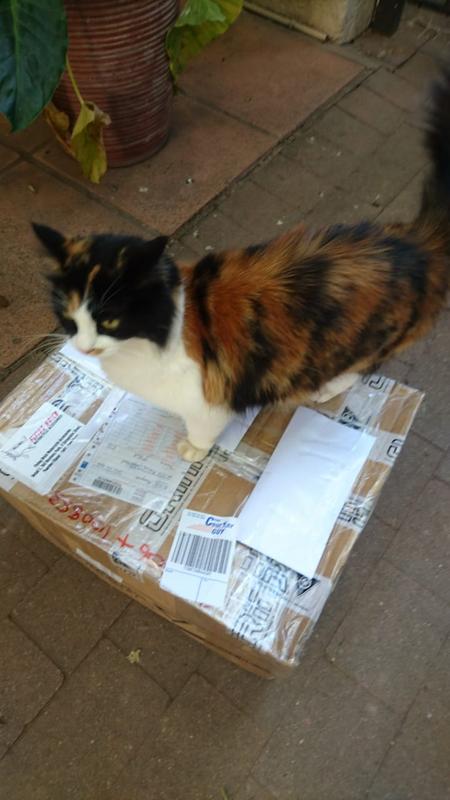 Teddy guarding some goodies we purchased for the trip.
Camping goodies
1x Large camping towel (to share
)
1x Tent
2x Lightweight inflatable sleeping mats
2x Lightweight sleeping bags (mine also has thermal liner, yes I get cold easily...)
2x Inflatable pillows
1x Bivi ground sheet small (like the army ones)
1x Camping Kettle (Silicone, it folds up!)
2x Pop up camping cups/bowls
8x Paper Plates
1x Gas bottle with adaptor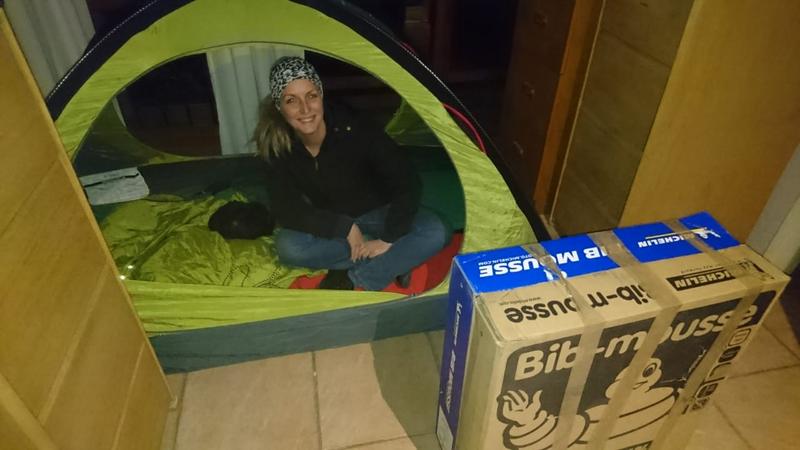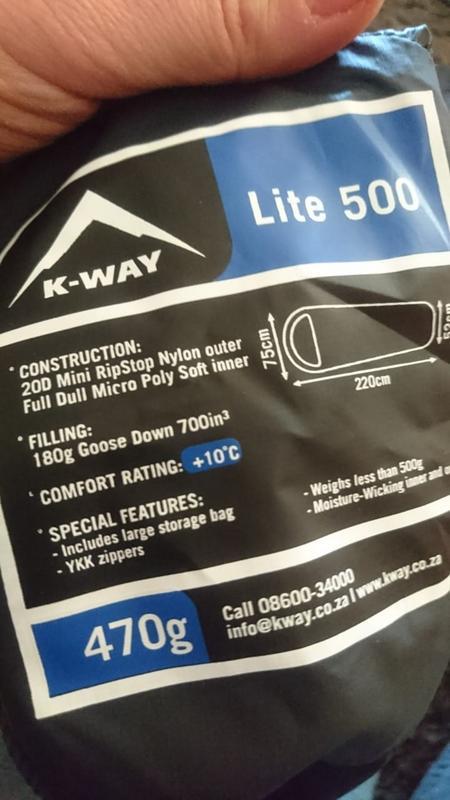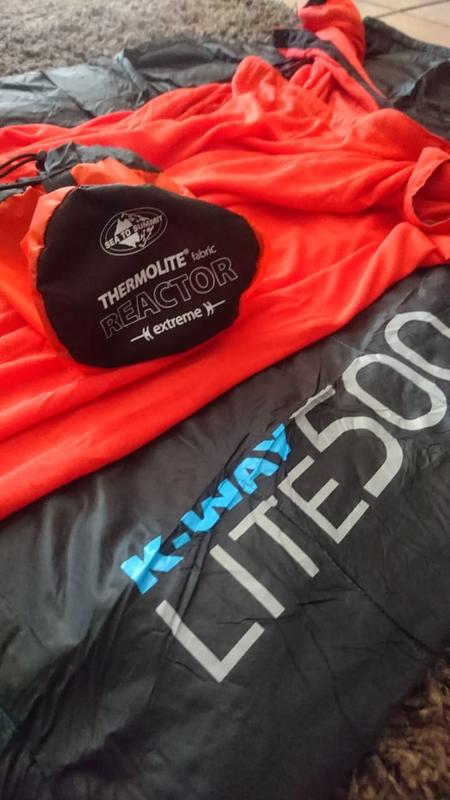 Electronics
Asstd. Chargers
Multiplug
2x Helmet Cams
1x Small Sony Camera
1x Satellite Phone
1x Solar Panel charger, if I can find space for it...
1x Power Bank with jump start clamps
1x Bluetooth Speaker (small)
2x GPS's On bikes
Medikit
Asstd Bandages of different sizes
Asstd Gauze
Asstd Plasters and dressings
1x Betadine disinfectant
1x Burn/Wound Cream
1x Small Savlon bottle
1x Voltaren Gel
2x Burn Gel
1x Gloves
Asstd tablets incl Valoid, Imodium, Myprodyl, Norflex, Allergex, Tramacet, etc.
2x Emergency Blankets
Food
I'm not packing too much when we leave here. We will stock up in Opuwo before we head up North where availability gets scarce. We will be eating at lodges etc where we can, alternatively we'll just buy whatever is available
I will however take some coffee/creamer and some protein bars and snacks. I've also prepacked multivitamins/supplements for every day. When it comes to food going up North we'll keep it simple, various canned goodies, cous cous, cup of soup, basically anything that is easy and convenient to make.
Another important thing is water. We each have 3L in hydration pack, with HSK carrying an additional Hydration pack as backup.
His bike carries an additional 3L in special tanks (as per Dakar regulation). So we have 12L total, hopefully this will suffice.
Toiletries
Shampoo and conditioner for two in travel size bottles.
Soap
Toothbrushes and toothpaste
Roll on deodorant
Mosquito repellent and anti itch cream
Makeup, I can't go without eyeliner and mascara
Tools
... Psssst HSK! Help with this part haha
6
« on: July 22, 2018, 11:55:46 am »
Is it my eyes or has HSK lost some weight?

Enjoy the trip!!

When we decided that we NEED to do this trip, we started walking and hiking. We also did what felt like the impossible, but it has actually been easy to stick to, and left booze completely. We've been alcohol free for nearly 4 months now.
HSK has lost just over 15kg in total! That is more than his entire luggage setup for this trip! Crazy if you think about it that way.
I really do need to reiterate how important your fitness levels are when looking to take on a trip like this. Before I did the Honda Quest I signed up for a month of Basefit (they train riders like Kirsten Landman and some other pro racers) and if it wasn't for that I wouldn't have made it... If you are comfortable with sand, the riding will not make you that tired, but what does get you is all the time on and off the bike, you are busy constantly! We've both been a bit sick and are battling the last of the snot siekte now, wish we could have done more, but current fitness levels will just have to do
Some pics from our recent hiking excursions: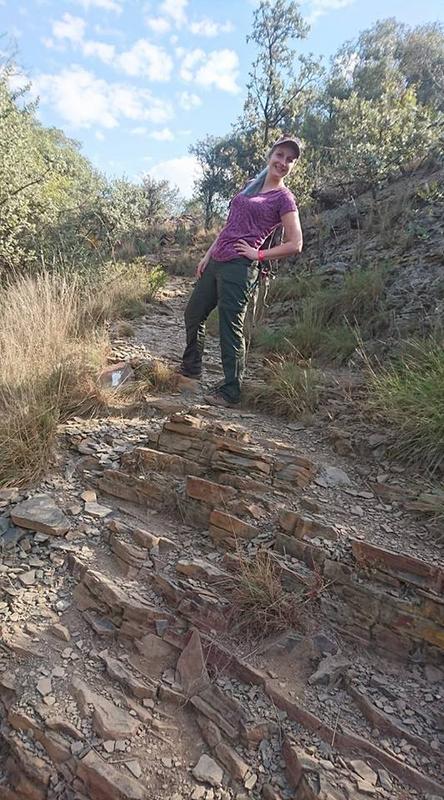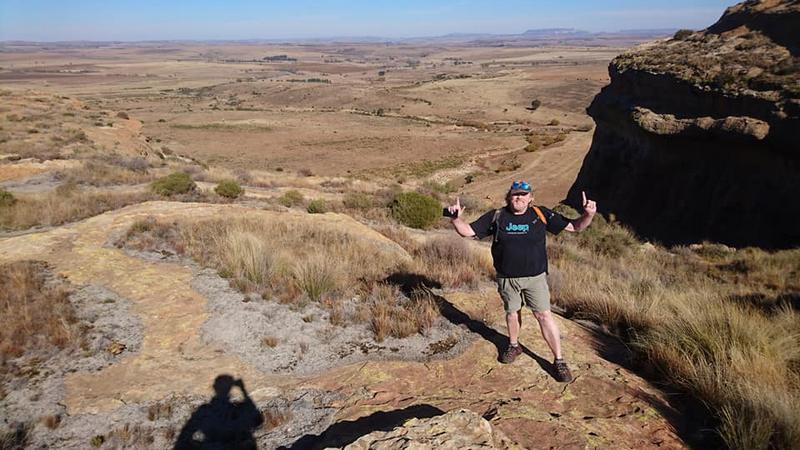 7
« on: July 22, 2018, 12:30:24 am »
"What, another Kaokoland RR?!"
Yip, in the making!
I thought I'd start this RR early, as there is so much hard work that goes into just making a trip like this happen. After more than a months planning, things are finally falling into place and we will be departing on Wednesday the 25th of July via Botswana to Hentiesbaai, Namibia where our trip starts.
The Motivation
Last year in September I had the privilege of being a finalist who embarked on the Honda Quest, an event that saw 20 riders navigate Northern Namibia on the new Honda Africa Twin. When riding between the exotic, tall palm trees on the Kunene river trail right up along the border of Angola, I knew I would have to come back here and show this incredible, out of this world place to the person who matters the most to me in my life. An option presented itself, quite early on. A trip with Specialised Adventures! We were seconds away from booking and then disaster struck... HSK's passport had expired
We thought, ok... Lets join for the September 2018 trip. Again, a message from Hardy on the forum mentioned that the September trip has been canceled (this has since been revised), but it had us thinking... Why don't we just go on our own? No support, no backup, just us. A romantic Kaokoland adventure? Hmmmm
"Just the two of us
We can make it if we try
Just the two of us
(Just the two of us)
Building castles in the sky
Just the two of us
You and I"
Wow that song is sooo cheesy! Enough of that
The Route:
This took a considerable amount of hours to put together. I cannot thank Hardy, Xpat, MaxthePanda, Johnny Wildwood and Johannes (a rider from Quest and elephant expert) enough for their inputs and advice regarding the route. We seem to have just the right mix of scenic, epic, extreme and fun to look forward too, with just a tad of afkak, ok actually quite a lot of afkak, but that is what makes it an adventure!
Day 1 - Hentiesbaai, Omaruru Riverbed to Uis for fuel then to Brandberg White Lady Lodge. 194km
Day 2 - White Lady Lodge to Twyfelfontein via Quest route and Huab Riverbed to Palmwag. 197km
Day 3 - Palmwag to Opuwo. We are taking a lovely detour through the Otjitheka Trail going through Klein Serengheti and the Khowarib Schlucht. 298km
Day 4 - Opuwo to Epupa Falls via Kunene River Trail 221km
Day 5 - Rest Day
Day 6 - Epupa Falls to Van Zyls Camp 145km
Day 7 - Van Zyls Camp over the pass and up in the Marienfluss to Camp Syncro 84.5km
Day 8 - Here's where we may change things up a bit as we are not in a huge rush and can extend the trip by a day or two. Either we have a rest day, or we take an alternative route past Bloudrom & Rooidrom to Marble Camp. If there's plenty of daylight, and if we have energy left... Hoarusib riverbed road to Puros. +- 205km
Day 9 - Puros to Palmwag via the Puros Canyon and Hoanib Riverbed. 280km
Day 10 - Palmwag to Ugab Rhinocamp. We'll be doing the Valley of Desolation trail here. If all goes well we will push on to Henties, otherwise stay at the Rhinocamp. 318km
Day 11/12 - Play in the dunes near Swakopmund. I have always wanted to ride up Dune 2, so hope we have time to tick this bucket list item.
The Rides:
2016 Husqvarna 701 Enduro
My weapon of choice! This really is the "next best thing" if you don't have an adventurised 500 that is... It is a bike I enjoy immensely, lightweight and nimble. I have been racing it in the Dualsport class at the Farmjam series this year and this bike has also carried me through some pretty crazy passes in Lesotho. It is a bike that I know and it is a bike that I'm comfortable with.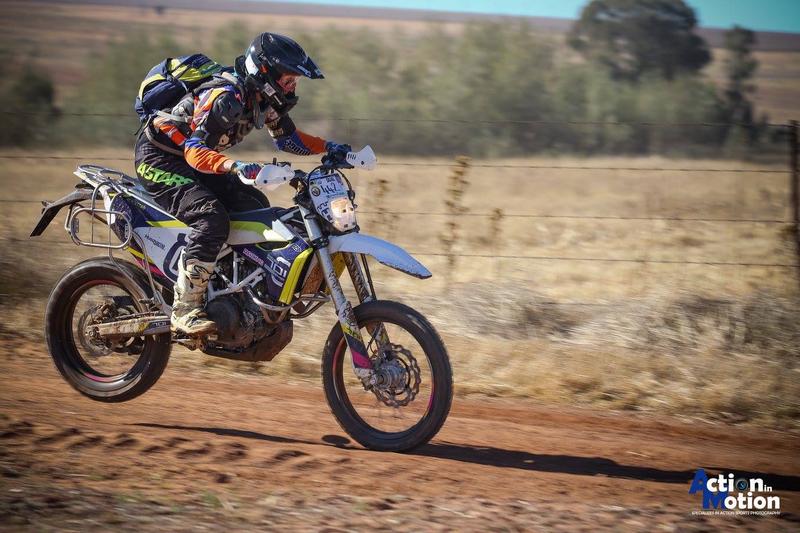 Modifications done for the trip (I already had spotlights and crashbars/pannier frames fitted):
- Michelin Desert mousses with Michelin Desert Race front tyre and Dunlop D908 rear.
- Underseat tank 6L
- Suspension tweaked by Hilton Hayward to accommodate extra luggage and fuel to be carried.
- GPS added.
Suspension tweak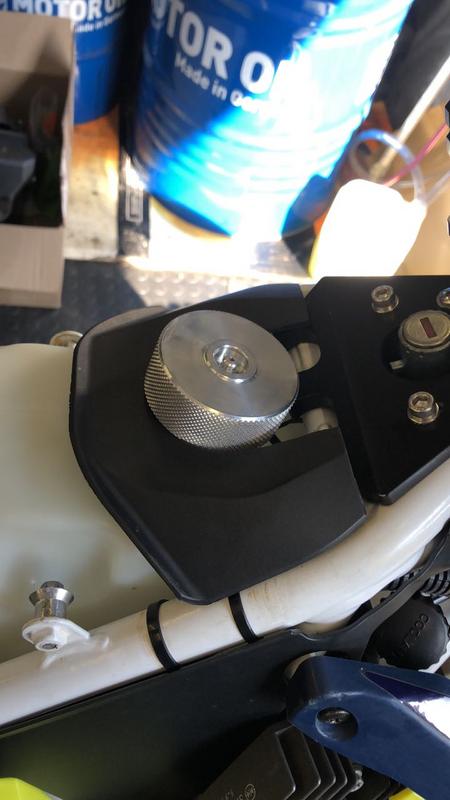 Underseat tank, got this nifty tank from Flyingbrick and installed by Offroadcycles.
2008 KTM 690 Rally Factory Replica
HSK will conveniently be riding this incredible machine, which was purposefully built in the classic African Dakar glory days for terrain almost exactly like what we planning to do
It takes 36L of fuel with a range of nearly 500km (terrain dependent of course), has incredible suspension and he literally didn't have to do a thing in terms of modifying the bike to get it ready for the trip.
A basic service was done as well as suspension tweak and added mousses. We also switched his shiny new fuel tanks to the older ones from my bike. See image of badassery below: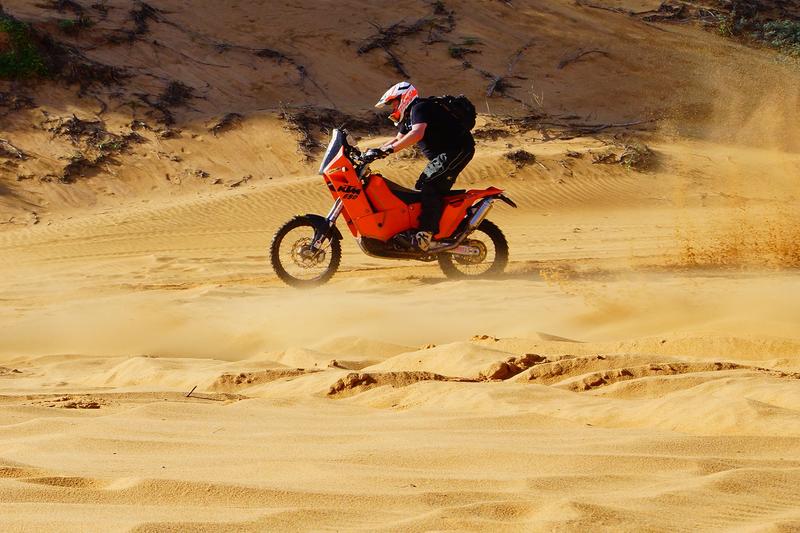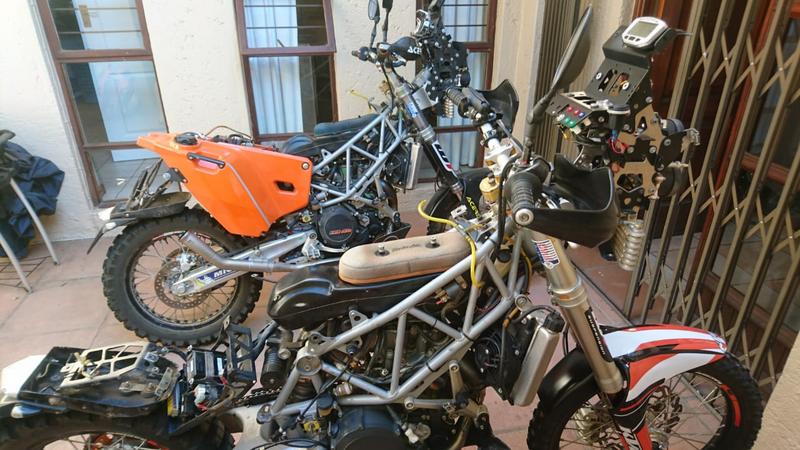 Yes you are seeing double!
The Riders
Minxy and Hondsekierie, or just HSK, it's easier to type
We've done quite a bit of traveling together over the last few years. I've been riding for just about 5 years and HSK... well many more than that
Being a biking couple has many advantages, like sharing the same tent, towl, soap, shampoo, the list goes on
It definitely makes for easier packing arrangements
It can also be hard work though, as we have to pick each other up when times get tough and compensate for each others weaknesses. This is not going to be an easy trip, and I have no doubt we will be put to the test. Anyway, all that aside, this is still supposed to be our romantic 'cocoa land' getaway!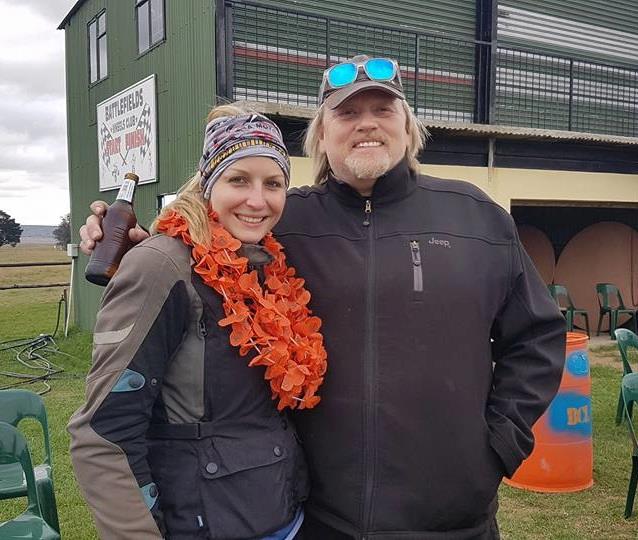 To be continued...
8
« on: September 19, 2017, 10:14:03 am »
So I've added loads of photo's on Facebook and made the albums public. You don't need a facebook account to open these, just click the link and you should be able to view everything
Part 1
https://www.facebook.com/media/set/?set=a.10155733938956972.1073741924.730936971&type=1&l=3b77302628
Part 2 (My favourtite album with us riding along the Kunene River, the technical approach to Van Zyls and the pass itself)
https://www.facebook.com/media/set/?set=a.10155734011176972.1073741925.730936971&type=1&l=10d2b5e3b6
Part 3 (Sandy riverbeds and the Purros Canyon)
https://www.facebook.com/media/set/?set=a.10155734194336972.1073741926.730936971&type=1&l=65972b329b
Part 4 (Twyfelfontein and riding the red dunes to Brandberg)
https://www.facebook.com/media/set/?set=a.10155734233086972.1073741927.730936971&type=1&l=3e1e840f5d
The following users thanked this post:
XRRX
Pages: [1]