Recent Posts
61
« Last post by moldie on Yesterday at 08:33:31 pm »
Yep
62
« Last post by Offshore on Yesterday at 08:30:33 pm »
Thank you for your most valuable Contributions to the Wimmen related Treads Wayne.
63
« Last post by Offshore on Yesterday at 08:27:24 pm »
You think too far ahead, enjoy the Moment.
64
« Last post by Zanie on Yesterday at 08:21:36 pm »
How would you rate the Rally's performance on the Kaokoland trip ? It seemed to do it with ease ?

I went even smaller during Kaokoland. I was on the CRF230F. To find out how the Rally rides Kaoko, you'd have to check with Lance - he borrowed it. Though the impression from his feedback is:
Rocks / rough stuff = great. Very plush suspension and a light guy makes for a happy ride. I missed the Rally on the rougher roads. I had to stand on the 230 or else lose bits of my spine.
Very, very rough stuff = I'm glad I was on a smaller bike (230 rather than 250). On crazy technical bits, lighter is better. I don't see this type of 'road' often though, so this shouldn't be a deciding factor on what bike.
Sand = not so great. The power-to-weight ratio was a downer in heavy sand. I fared better with the smaller-engine yet higher-torque 230. I also rode away from Lance on uphills.
Overall, though, I'm extremely happy with the Rally for my usual type of riding: rougher-than-usual trails and commuting. My daily commute is 75km, yet last month I only spent R600 on fuel.
I don't miss the power of the 650, aside from on long stretches of highway, e.g. Piketberg to Cape Town (which I try to avoid). I like to ride at a chilled pace.
Oom Vis I would also like to try one at some stage to test the theory. The biggest concern for me is as I am getting older and rely so much on my health to work and I want to limit my risk. That is why I think a little and light bike like the Rally which to me (sorrie Daan) is the lipstick version of the XR250L is a wise choice especially when you need to put a foot down to save it. Your wife owns the 250L right? and how do they compare....is the Rally realy R10K better? It is for one 10kg heavier?
Anyway, like said I am also toying with the idea to go lighter/smaller out of safety concern and I get the enjoyment factor.

There are two big reasons I'd go for the Rally: (1) larger tank / longer range and (2) lekker bright LED spotlight. No need for auxillary spots, orange headlight cover, etc. People on my commute see me and I can see in the dark when we misjudge time/distance during a trip through the Karoo. And then the lesser-mentioned real reason: the bike is so sexy!
65
« Last post by Gérrard on Yesterday at 08:17:38 pm »
While pondering about the electric actuator I decided to do a Woody and use a linear mechanical jack. This will allow me to in the mean time set up the car and suspension. I'll make the mounts in such a way that I can just replace it with an eletric actuator, or do another Woody, and add a wiper motor to actuate the jack.



66
« Last post by Fudmucker on Yesterday at 08:15:35 pm »
I just wonder what those silicone-stuffed mammaries are going to look like when the female is fifty + ?
67
« Last post by Wayne on Yesterday at 08:13:20 pm »
Sent from my SM-N950F using Tapatalk
68
« Last post by Fudge on Yesterday at 08:03:18 pm »
OK all you pedantic old farts...
what category is THIS bike?

Underbone.
69
« Last post by 2StrokeDan on Yesterday at 08:02:47 pm »
The Postie is just a normal bike, with a spine frame.

Some bikes have double cradle frames, other trellis frames, etc.


70
« Last post by Fudmucker on Yesterday at 08:00:09 pm »
OK all you pedantic old farts...
what category is THIS bike?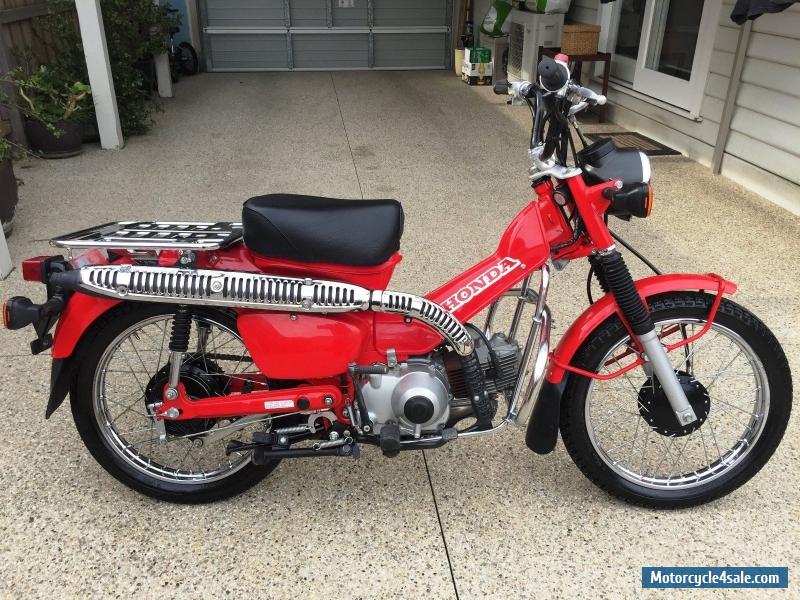 The Honda "Postie" is probably one of the most popular bikes in Australia,
where they have annual gatherings in the outback.
Hundreds of riders go there every year.
Small displacement, lightweight and capable of doing any dirt road on the continent.
Scooter? Adventure Bike? Dual Sport? Commuter? Delivery bike?
Who *%# cares?
It is a fun motorcycle and hundreds of people just love riding them.
Honda keeps producing the 110cc bike with automatic clutch every year just for the Australian Post Office.